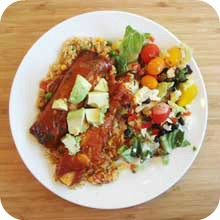 There are some Trader Joe's foods that are so delicious, versatile, easy and healthy that they are likely to make it into your basket every week.
From the produce section: pineapple spears, organic bananas, Persian cucumbers, organic cherry tomatoes, shredded carrots, shredded cabbage, shelled edamame, organic salad greens and baby spinach.
From the frozen food section: creamy polenta with carrots and spinach, asparagus risotto, Japanese-style fried rice (vegan), meatless sausage & cheese flatbread, roasted vegetables in balsamic butter sauce, potato pancakes, Morningstar sausage links (vegan) and chocolate croissants.
From the chilled food cases: soy milk (vegan), baked tofu (vegan) , country Italian salad, southwest salad, and the Middle East feast (vegan).
From the grocery aisles: organic garbanzo beans (vegan), organic black beans (vegan), lentil vegetable soup (vegan), kalamata olives (vegan), Reed's extra ginger brew (vegan).
Check our 4 Pineapple Products for detailed reviews of our favorite Trader Joe's foods.