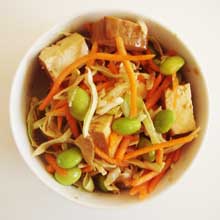 Stir frys can be a healthy, delicious and satisfying part of a vegetarian or vegan diet. However, it takes a bit of planning and effort to pull off a homemade stir fry that won't leave you longing for your favorite Chinese restaurant. Here are some tips for a great stir fry:
The Veggies
Use fresh vegetables, instead of frozen or canned. Select 3 to 5 different vegetables, including at least one green vegetable (broccoli, bok choy, asparagus) and one crunchy vegetable (carrots, peppers). Green beans, mushrooms, asparagus, eggplant and onion are other good options.
Baby corn, bamboo shoots and water chestnuts are common additions, but are rarely available fresh and the canned versions can take away from the quality of the overall dish.
Cut all vegetables before you start cooking. In general, cut vegetables into bite size pieces. However, your stir fry will cook quicker if you cut really dense vegetables (carrots) into smaller pieces. Leave fragile, watery vegetables (snow peas and bean sprouts) whole.
The Protein
If you're serving stir fry as an entrée, instead of a side, add some protein for nutrition and staying power. Edamame, tofu and nuts are great choices.
Starch
A stir fry can stand alone, but is more filling and budget-friendly when served over rice or noodles. Choose brown rice or whole grain noodles for better nutrition and staying power than processed grains. Have your starch nearly cooked before you start the stir fry.
Oils
I often substitute broth for oil, but not in stir frys. You really need oil to "fry" the vegetables quickly. Using broth results in more of a boiled or steamed result.
Vegetable oil, canola oil and sesame oil are good choices. Olive oil is not. The flavor isn't right and it burns at a relatively low temperature.
Seasonings & Sauces
Trader Joe's sells a variety of stir fry sauces. However, it's also easy to make your own with some combination of soy sauce, pepper sauce, juice, ginger and garlic to suit your taste.
Heavy sauces, such as black bean and peanut sauces, are fine for sturdy vegetables (broccoli, peppers and carrots), but will overwhelm the taste and texture of lighter vegetables (pea pods and bean sprouts).
You typically don't add salt or black pepper to a stir fry, because soy sauce and red pepper provide similar flavor.
Cooking Technique
After all your vegetables are cut and seasonings and sauces are ready, heat a large griddle, fry pan or wok to medium heat over the largest burner on your stove. Carefully add about 1 tablespoon of oil to the warm pan.
If you're using raw garlic, raw ginger or hot pepper flakes, go ahead and add these to the pan so their flavors can mellow and transfer to future ingredients. Don't add sauces at this point or future ingredients won't fry well. If your stir fry includes raw tofu, cook it first then remove from pan.
Begin cooking vegetables starting with those that will take the longest to cook. A typical order is carrots, pepper, onion, broccoli, mushrooms, sugar snap peas, bok choy and snow peas. However, this can vary depending on the sizes of the vegetable pieces.
Ideally, the amount of vegetables in the pan at one time should be limited so that most of the pieces are fully touching the pan. A thick layer of vegetables will result it the top ones getting more steamed than fried, even with stirring. If your pan isn't large enough to accommodate all your vegetables in a thin layer, cook them in batches and then combine at the end.
Turn up the heat to medium high as needed to cook the vegetables quickly and get a slight char on the edges, if desired.
If your stir fry includes precooked tofu, edamame or nuts, add these when all the vegetables are nearly cooked. Then add any sauces and continue heating just enough to warm the sauce. Remove from heat and serve right away.