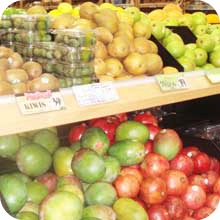 As expected, nearly all of Trader Joe's produce, breads, cereals, dairy, snack foods, desserts and beverages are vegetarian. Trader Joe's publishes a vegan product list.
The vegetarian and vegan products of most interest and usefulness are the fresh, frozen and grocery (shelf-stable cans, jars and boxes) items since these are the basis for real meals.
We've highlighted some favorite products in each of the categories below. Also check out the dozens of product reviews you'll find through out this site.
Fresh Produce
organic bananas (vegan)
fuji apples (vegan)
pineapple spears (vegan)
sliced mango (vegan)
seasonal berries (vegan)
trimmed green beans (vegan)
shredded carrot (vegan)
shredded cabbage (vegan)
peeled beets (vegan)
chopped Brussels sprouts (vegan)
organic cherry tomatoes (vegan)
Persian cucumbers (vegan)
shelled edamame (vegan)
avocado (vegan)
Chilled Prepared Foods
Frozen Foods
Dairy and Dairy Alternatives
Grocery
whole grain pita bread (vegan)
vanilla almond granola (vegan)
organic black beans (vegan)
organic garbanzo beans (vegan)
lentil and vegetable soup (vegan)
black bean soup (can) (vegan)
chana masala (vegan)
blue corn tortilla chips (vegan)
peanut butter filled pretzel nuggets (vegan)
jalapeno pepper hot sauce (vegan)
organic maple syrup (vegan)
soyaki marinade (vegan)
all natural barbecue sauce (vegan)
organic extra virgin olive oil (vegan)
white balsamic vinegar (vegan)
organic balsamic vinegar (vegan)
organic sliced sandwich pickles (vegan)
pitted kalamata olives (vegan)
Beverages
Non-Food
double roll toilet paper
50/50 shampoo
all purpose cleaner
pet food