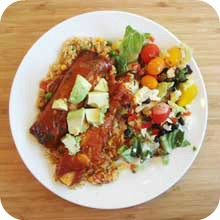 Dinner is still the big meal of the day for most people and often how we transition from our work day to personal time. Unfortunately, we're often tired, rushed, and very hungry when it's time to make dinner. For this reason, I focus on quick and easy dinners that often revolve around prepared chilled or frozen foods.
I grew up in Florida and currently live in San Diego, so a cool refreshing salad is almost always part of my dinner plan. If you live in a cooler climate, soup may be more appealing. Check out our salads and soups pages for easy and nutritious options.
Unless, I'm serving guests I'm not likely to have an appetizer or dessert because that's more time than I want to spend cooking and more food than I need.
The main portion of my dinner is often a frozen entree or side dish with extra vegetables. For example, Japanese fried rice (vegan) becomes a meal with a generous portion of broccoli and gnocchi ala gorgonzola is more interesting and nutritious with the addition of frozen peas, cherry tomatoes and sautéed mushrooms.