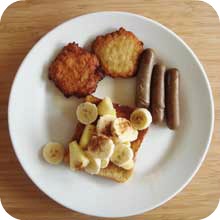 Trader Joe's carries many typical breakfast foods and plenty of interesting ingredients for you to create your own favorite breakfast.
Start in the produce selection where you'll find fresh fruit that can be eaten alone or added to cereal or yogurt. My go-to breakfast fruits are pineapple, banana and whatever berries look best that week.
Trader Joe's carries a large selection of hot and cold breakfast cereals. The granola combinations (cereal, dried fruit and nuts) are particularly interesting and make good additions to yogurt.
The flavored oatmeals are good, but I prefer to buy plain oatmeal and embellish it with dried fruits, nuts, and maple syrup. Note that it's best to cook oatmeal in water (so it doesn't get gummy), but adding a splash of vanilla soy milk after it's cooked makes it creamy and adds some flavor.
Trader Joe's carries several kinds of granola bars, including some fun seasonal choices like pumpkin in fall. Have a cup of yogurt with a granola bar for a satisfying breakfast that will stick with you for awhile.
The breakfast section of the frozen foods case includes waffles, French Toast, croissants, quiche and potatoes. The Danish pancakes and Chocolate Croissants are yummy, but more like dessert than breakfast. There are 3 breakfast potato choices: Potato Pancakes (latkes), hash browns, and molded hash browns. The potato pancakes are a little oily, but very tasty and cook up well in the microwave. The molded hash browns look like a food service item, but are popular with kids and very inexpensive.
Vegetarian sausage and bacon are typically found in the frozen food case near the vegetarian meat alternatives (veggie burgers, chickenless nuggets). The Morningstar sausage links are my favorite. The sausage patties are a bit greasy and chewy (too realistic for my tastes) and the bacon is just weird (looks like modern art).
My favorite TJ's breakfast is a frozen waffle or piece of French toast covered with fresh pineapple chucks, maple syrup and a pinch of cinnamon and served with a couple Morningstar sausage links. The sausage can be microwaved, but is especially good sauteed in a pan with a little canola oil, maple syrup and just a dash of chili powder (seriously, try it).
You'll find chilled tubes of cinnamon rolls, crescent rolls and biscuit dough somewhere near the dairy case. These taste exactly like the ones you buy in standard grocery store and aren't very nutritious (all white flour). I occasionally make the biscuits and fill them with vegetable sausage and cheese for a hearty breakfast my son can eat on his way to school.
There is a huge selection of yogurt in the dairy case, but unfortunately non-dairy yogurts aren't always available at my store. Make yogurt parfaits with some fresh fruit and granola.
There is a small selection of fresh breakfast pastries and muffins that varies by location. The bread shelves have multigrain bread and English muffins for toast or breakfast sandwiches. Serve these with jams and nut butters or cream cheese.
If you're tired of your regular breakfast foods, consider that most people in the world do not eat special breakfast foods, but instead eat the same type of foods for all their meals. When I visited Disneyland, the breakfast buffet at the hotel had an American side and a Japanese side. The American side was waffles, eggs and sausage. The Japanese side was rice, miso soup and pickled plums. I'm not quite up for pickled plums for breakfast, but leftover pizza, stir fry, or curry are fine breakfast choices and will stay with you longer than a bowl of cereal or a muffin.
Even in countries with specific breakfast foods, the choices are often healthier and more balanced than the typical fat and sugar laden American breakfast. In European hotels the Continental Breakfast includes not only pastries, but whole grain muesli, yogurt, cheese, dried fruit and nuts. The take away message is that if you add a little fat and protein to an otherwise carb-heavy breakfast, you'll make it lunch without being ravenous.