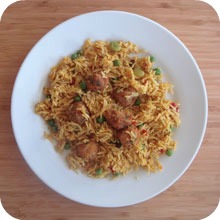 Trader Joe's carries a large selection of vegetarian foods, but their vegan choices are more limited especially when it comes to pre-prepared chilled salads and entrees, frozen entrees, and desserts. Fortunately, there are many vegan "ingredients" you can combine to create satisfying meals.
Trader Joe's maintains a vegan products list that as expected includes many fresh, canned and frozen fruits and vegetables, plus most dry grains (boxed and bagged), some frozen grain-based entrees and several canned and boxed soups.
Trader Joe's carries a few vegan meat substitutes, including chickenless tenders, meatballs, italian sausage and veggie burgers. Vegan cheese substitutes include a cream cheese alternative and mozzarella style shreds. Some Trader Joe's carry additional cheese alternatives, but double check the labels to verify that they are truly vegan.
Some favorite vegan products include:
Latin black bean soup (box) – add corn and garnish with salsa or roasted red pepper
lentil and vegetable Soup (can) – serve over rice or other grain
black bean & corn enchiladas (frozen) – serve with rice and garnish with avocado
Japanese-style fried rice (frozen) – serve with sauteed broccoli or bok choy
vegetable pakoras (frozen) – serve with chana masala or any of the other Indian frozen or shelf-stable (pouch/box) entrees
goddess dressing (bottle) – adds richness to any salad