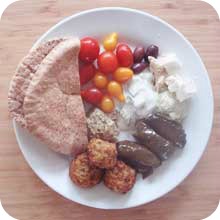 Use the tips and tools below to get the most out of your Trader Joe's shopping experience.
Product Reviews: Zero in on Trader Joe's best vegetarian and vegan products.
Shopping Tips: Learn the best times to shop at Trader Joe's and tips for maximizing convenience and minimizing costs.
Shopping Lists: See shopping lists for 1, 2 or more people as well as quick stop and pantry stocking lists.
Cooking Tips: Learn easy tips to boost the quality of your meals and reduce your time in the kitchen.
Pantry Staples: Stock your pantry with staples from Trader Joe's that will enable you to whip up delicious meals without making a special trip to the store.