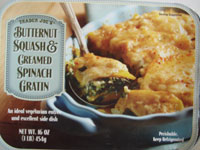 This seasonal vegetable side dish is a delicious, cheesy, calorie bomb!
The container technically has 4 servings, but that would be a tiny little square that would look silly even as a side dish. Half the container is more reasonable and where I started. By the time I finished I'd scraped every last bit out of the tray. Yes, it's that good and worth the calorie and price splurge.
This is a seasonal dish that is usually only available October through December. Makes a great side dish for a holiday meal, but bake it so you'll get a nice crispy top worthy of the table.


Location: Chilled case with other side dishes
Quantity: 16 oz, 4 servings
Calories: 140 calories per serving, 80 fat calories per serving
Cost: $4.99