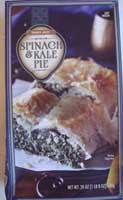 Trader Joe's describes this as a "modern take on spanakopita". I guess the kale is what makes it modern.
This looks and tastes like spanakopita, except that the smell and flavor of feta is stronger than what I'm used to. Not unpleasant, just different.
There are no quick cooking instructions and it requires a full 45 minutes of baking time and then needs to cool a bit before you try to cut it into pieces.
The pie is about 3 inches shorter than the box so I felt a little cheated. However, there is enough for 2-3 people and at $4.99 it's a great value.
Makes an easy and inexpensive meal when combined with Trader Joe's Greek Salad.
This is one of the few "family size" entrees available at Trader Joe's. The Roasted Vegetable Lasagna is another good one.


Location: frozen food case
Quantity: 24 oz box, 6 servings
Calories: 200 calories per serving, 110 fat calories per serving
Price: $4.99