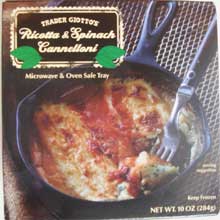 This is a very rich and satisfying dish. Not surprising given that more than half the calories are from fat.
The crepe has a nice texture and the ricotta filling is tasty, but it's the sauce (béchamel and tomato) that really makes this dish.
The serving size is too small for a meal, so you'll want to add a salad or some sautéed greens. The later works especially well with the excess sauce from the cannelloni.


Location: frozen food case near other Italian entrees
Quantity: 10 oz
Calories: 390 calories per serving, 200 fat calories per serving
Cost: $2.49