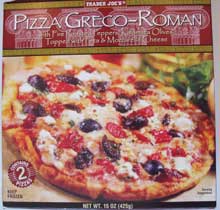 This pizza doesn't look anything like the photo and isn't very impressive out of the box due to what appears to be a skimpy amount of toppings.
However, this pizza works because the crust is relatively thin and the toppings are very flavorful. The combination of feta cheese, roasted red peppers and kalamata olives is unexpected on a pizza and really packs a punch.
There are two pizzas per box, which makes these a great value. Each pizza is slightly larger than personal size, but not really big enough to share even though the package lists serving size as 1/3 a pizza.


Location: frozen case with the pizzas
Quantity: 15 oz, 2 pizzas
Calories: 150 calories per serving (1/3 pizza), 50 fat calories per serving.
Cost: $3.99