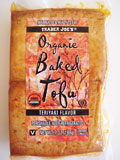 Trader Joe's carries 2 flavors (original and teriyaki) of Organic Baked Tofu. Both are equally tasty and seem very similar to Wildwood brand baked tofu. 4 pineapples for this savory and versatile protein boost.
I buy this tofu with the intent of adding it to soups, salads, and stir frys. However, at least half the time I end up just eating it as-is (yes, right out of the package, cold and often without even cutting it). It makes a really quick, tasty and satisfying snack when you're craving something savory and don't have the time or desire to make something more elaborate.
Baked tofu (not just TJ's brand) always seems a bit pricey to me until I consider how much work it must take to turn soy beans into this savory treat.
My favorite, super quick salad consists of TJ's shredded cabbage, shredded carrot, shelled edamame, baked tofu (cubed) and sesame soy vinaigrette.


Location: Refrigerated case, usually near produce section
Quantity: 7 oz, 2 servings per container
Calories: 160 calories per serving, 40 fat calories per serving
Cost: $3.69