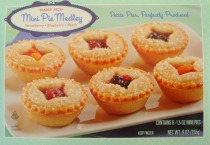 I'm not a huge pie fan, but I am a sucker for bite-sized desserts. Fun and I can have more than one. These mini pies are adorable (cute enough for a tea party or special occasion) and quite tasty.
The filling is more like a jam than a typical pie filling, which is a plus in my book. The fruit (strawberry, blueberry and peach) actually tastes like fruit, instead of just a sweet & sticky candy-like filling. Thanks to the small size, the ratio of crust to filling is high which is a bonus for crust lovers and also keeps the overall pie from being too sweet and gooey.
These pies are fully cooked and can be thawed and served at room temperature, thawed and heated for a few minutes, or cooked from frozen. I tried the later two since warm pie is a treat and both worked well. To my surprise thawing and then heating didn't result in any sogginess and baking from frozen didn't result in an overbrowned crust. Someone knew what they were doing when they designed this product.
My only complaint about this product is the price. Not a great value at $4.99, but worth it when you want a dessert treat with an especially nice presentation.


Location: Dessert section of frozen food case
Quantity: 9 oz, 6 servings per box
Calories: 150 calories per serving, 60 fat calories per serving
Cost: $4.99