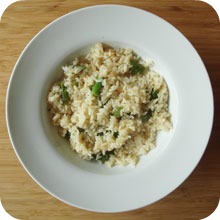 Trader Joe's has everything you need to eat well from dawn to dusk and beyond. On those days when you needs something all ready to go, check out the chilled foods case for salads and sandwiches. When you want to create something on your own, check out all the fun ingredients in the produce, frozen foods, and grocery aisles. Click on the links below for ideas for meals and snacks.
Breakfast: Whether you're a big breakfast eater or more likely to grab a yogurt or granola bar or you're way out the door, Trader Joe's has you covered with a wide variety of breakfast choices.
Lunch: Enjoy TJ's sandwiches, salads, soups, pizza and small entrees for a quick and easy lunch that is less expensive and better for you than eating out.
Dinner: Trader Joe's has what you need for quick weeknight dinners, including vegetable and grain side dishes. When you have more time make elaborate weekend meals with everything from appetizers to desserts from Trader Joe's.
Snacks: Not many of us it make it through the day or evening without a few extra nibbles. Find plenty of healthy, as well as splurge-worthy, snacks at TJ's.
Check out our Ethnic, Quick & Easy, Budget, Kid Friendly and Low Calorie pages for more ideas.