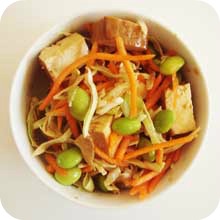 Trader Joe's has foods labeled reduced-guilt or guilt-free. Guilt is an unfortunate label for food, but you get the idea.
Frozen food choices include baked ziti, stuffed pasta shells, pizza and macaroni and cheese. The ziti is plain and not very filling. The pizza is downright depressing. The macaroni and cheese is OK, but nothing like TJ's regular macaroni and cheese which is a delicious, starchy, fat bomb. The spinach & cheese stuffed pasta shells are one of the best reduced-guilt options and are enough for a meal if you add some sauteed greens or a fresh salad.
TJ's also sells a reduced-guilt guacamole that has low fat yogurt in place of some of the avocado. This tastes fine, but you can accomplish a similar calorie reduction by mixing regular guacamole with salsa. Of course the key is to resist the urge to eat half a bag of tortilla chips with whatever guacamole you have.
Many of the Trader Joe's chilled, pre-prepared salads are a reasonable amount of calories, especially the Southwest Salad which is a very satisfying 200 calories. Watch out of the salads with lots of cheese and nuts, which come in closer to 500 calories.
Trader Joe's also carries a couple fat free salad dressings for your homemade salads. The fat-free balsamic vinegar is so tart that it's likely to overwhelm most green salads, but works well for a grain or bean salad. The fat-free sesame soy ginger vinaigrette is flavorful and versatile as it can be used as a salad dressing, marinade and even a stir fry sauce in a pinch.
Here are some tips for enjoying delicious, healthy foods from TJ's without going overboard on calories:
Have some protein and/or fat with each meal and snack, otherwise you'll be hungry in an hour.
Don't buy foods you can't resist. If you're likely to consume a bag of cookies or box of chips in a day, resist the temptation to put it in your basket.
Plan on 500-700 calories per meal and limit snacks to 100-200 calories each. Most people can maintain their current weight on approximately 2000 calories per day and lose weight on 1500 calories per day, but this varies depending on age, body composition and activity level.
Eat fresh fruit and vegetables. Watery fruits and vegetables like citrus, berries and salad greens are initially filling, but don't have a lot of staying power. Dense fruits and vegetables like apples, bananas and carrots will keep hunger away longer.
Limit dried fruits and nuts, which are calorie dense. Use dried fruits and nut as a garnish on salads or oatmeal, not as a snack you eat by the handful.
Limit bread and watch the portion size on pasta and rice. Whole grains are healthy foods, but still calorie dense. Try to have more vegetables on your plate than starches.
Buy low fat milk and non-dairy milks. You'll get used to the taste and texture difference and can use the calories for something else you enjoy.
Limit juices and other drinks with calories. You'll be more satisfied if you eat those calories rather than drink them. Smoothies have a meals worth of calories without a meals worth of satisfaction. Wine and beer often make you crave the foods that go well with them.
Enjoy frozen fruit bars or sorbet instead of ice cream.
Make salads with low fat or non fat salad dressing, but add some beans or avocado for staying power.
Add some crunch to your meals. Whether it's jicama in a salad or nuts on oatmeal, the texture will make your mouth and brain happy.
Season your food well. Salt, pepper, hot sauce, garlic, spices and herbs boost flavor without adding calories.