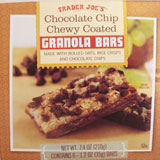 These are my favorite Trader Joe's granola bars! Not really a breakfast bar due to all the chocolate, but yummy for dessert or a snack. 4 pineapples!
My only complaint is that I swear these bars are getting smaller. The bars are now about an inch shorter than the foil wrapper. Perhaps this was necessary to keep the calories or price under a certain threshold. Regardless, they are still very satisfying.
The peanut and vanilla flavor variations of this bar are also tasty.


Location: Grocery shelves, usually near the cereal
Quantity: 7.4 oz box, 6 – 1.2 oz bars per box
Calories: 150 calories per bar, 35 fat calories per bar
Cost: $2.29