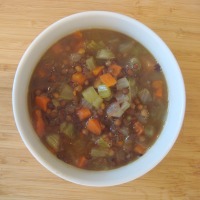 Make a satisfying lentil soup with three Trader Joe's ingredients and less than 10 minutes of actual effort!
The three ingredients are mirepoix (chopped onion, carrot and celery), steamed lentils and vegetable broth. The mirepoix and steamed lentils can both be found in the chilled produce case and the vegetable broth is on the grocery aisle near the other boxed soups.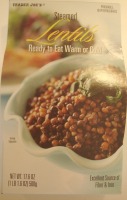 If you haven't used the steamed lentils before, don't be concerned about the color of the lentils. The lentils are packed in a plastic pouch and the lentils touching the pouch are much darker than those in the center. This just means the outside ones have been exposed to more oxygen. Not a health or taste issue and confirmation that no funky preservatives have been added.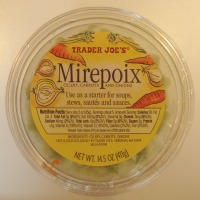 Sauté the mirepoix in a little vegetable broth or olive until the vegetable pieces soften and brown slightly on the edges. Then add the entire package of steamed lentils and a full carton of vegetable broth.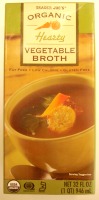 Feel free to add pepper and any herbs you like at this point, but hold off on adding salt. Both the lentils and broth have salt and seasonings that taste stronger as the soup cooks. If you salt to taste at the beginning, the soup may be too salty when it's done.
The soup will seem too watery at first, but simmer in a pot without a lid for about 30 minutes and it will thicken up nicely. If you want this soup to be more like stew, use a little less broth or simmer longer.
Keeps well in the fridge so great for a couple days' lunches or serve with a side salad and crusty bread for dinner.
Makes 4 large bowls of soup with about 250 calories per bowl if you don't use much oil for the sauté.