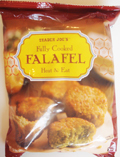 I didn't have high expectations for these frozen falafel since reheated falafel are often dry. However, these are a pleasant surprise, especially given that they cook quickly in the microwave without getting tough.
In general, falafel don't stand well on their own, but need some sauce to add flavor and moisture. Trader Joe's tahini is my favorite accompaniment, but hummus, tzatziki, tabouli, and TJ's feta salad dressing also go well.
These falafel are a great starting point for a sandwich made with lavosh or pita bread or a Mediterranean style plate.


Location: Frozen food case
Quantity: 12 oz bag, 4 servings (3 falafel)
Calories: 320 calories per serving, 170 fat calories per serving
Cost: $3.69