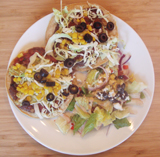 I love tostadas, but Trader Joe's doesn't sell ready-to-use tostada shells, only taco shells. I decided to make my own tostada shells using corn tortillas from the bread aisle.
Most instructions say to brush or spray tortillas with oil before baking, but I just popped mine in the oven without oil at 350F. I took the tortillas out after about 6 minutes when they started to brown around the edges. They seemed a little too soft right out of the oven, but as soon as they cooled a bit they hardened enough that I could add toppings. I suspect they'd turn out crisper/harder if I used oil, but I'd rather save the calories.
I topped my tostadas with refried black beans, fresh salsa, smashed avocado, sautéed canned corn, shredded cabbage and black olive slices – all from Trader Joe's. Served with a side of Southwest Salad from the chilled case at TJ's. A very tasty, fresh and filling, but not too heavy, Mexican meal that was well worth the effort.
More Trader Joe's Mexican food options…