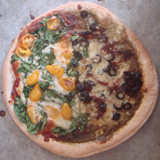 Trader Joe's par-baked organic pizza crust (frozen food case $2.49 for 2 crusts) inspired me to make my own pizza. I purchased TJ's pizza sauce ($1.99) and grated mozzarella ($3.99) specifically for this pizza then gathered a variety of Trader Joe's items I had in my pantry and fridge.
I put pizza sauce, mozzarella cheese, fresh spinach and sliced yellow pear tomatoes on one half of my pizza and pesto, artichoke antipasto, sundried tomatoes, and gorgonzola cheese on the other half. My son kept it simple with pizza sauce, mozzarella cheese, spinach and black olives on his pizza.
Both pizzas were tasty and enough for two meals when accompanied by a side salad. However, the crust was a bit tough and the pesto was too salty. Overall a success – a good value and fun to make. Next time I'll try a different crust option and use fresh pesto.