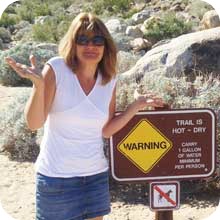 Aloha! I'm Trader Jamie and I developed Vegetarian Trader Joe's to help you find and enjoy the great vegetarian foods offered at your local Trader Joe's grocery store. I have no affiliation with Trader Joe's, except for being a frequent customer and fan.
I have been a vegetarian for 25 years. I eat mostly vegan foods at home, but consume some dairy (usually cheese) when I eat out. I inherited my appreciation for good food as well as meal planning and cooking skills from the talented women in my family. My formal education is in engineering, environmental studies and nutrition science.
I first wandered into a Trader Joe's about 20 years ago. However, I didn't become a regular Trader Joe's shopper and super fan until 5 years ago when I moved to a home in Palo Alto, CA with two Trader Joe's nearby. When I moved to San Diego last year, a Trader Joe's in the neighbor was at the top of my house hunting priority list. I now buy nearly 100% of my food and approximately 80% of household supplies and toiletries at Trader Joe's.
I enjoy grocery shopping, planning meals and eating them, but time spent in the kitchen isn't a highlight of my day. My general view is that meals should be appetizing and nutritious, but not take longer to cook than they do to eat. I am usually very hungry by the time I head for the kitchen and sometimes even boiling water or preheating the oven requires more time and patience than I have at that moment. My most common meal is a hearty salad with a microwave entree or a grain and veggie combo prepared in a skillet.
Fortunately, Trader Joe's has many items that fit my cooking style. This combined with the reasonable costs, interesting variety, and pleasant shopping environment have sold me on Trader Joe's. Whether you're already a Trader Joe's fan or a new shopper, my hope is that this site will help you enjoy easy, affordable and healthy meals.
Feel free to send any questions, comments, or suggestions about Vegetarian Trader Joe's to me at jamie@vegtj.com.
Learn more about Trader Joe's grocery stores.