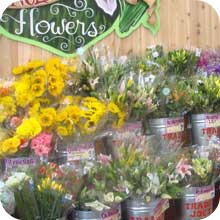 Trader Joe's has a good FAQs page that I won't duplicate here. However, I'd like to share the following info to help new Trader Joe's shoppers know what to expect and provide loyal shoppers with some fun insights into your favorite grocery store.
What's so special about Trader Joe's?
If you're not a current Trader Joe's shopper, you may wonder what all the fuss is about. Trader Joe's consistently ranks as a favorite grocery store among consumers and many Trader Joe's shoppers aren't just customers, they're loyal fans.
In my opinion this is due to Trader Joe's finding the right balance between quality and price or in another word value and then adding a bit of fun to the equation. Trader Joe's shoppers enjoy purchasing interesting and tasty foods, in a lively environment and leave without experiencing the sticker shock common at many specialty markets.
Is Trader Joe's a health food store?
No. Trader Joe's offers many healthy and vegetarian options, but this is not their mission. You'll find more frozen and canned foods, processed grains and refined sugars at Trader Joe's than a typical health food store.
You won't find bulk food bins, although you'll find some similar products (a lot of dried fruits and nuts) in packages. You also won't find aisles of vitamins and supplements – just a few basics. Fortunately, Trader Joe's has adopted practices that appeal to many health conscious shoppers, including no synthetic colors, artificial flavors or preservatives, GMO's, MSG or trans fats.
Trader Joe's carries plenty of healthy foods and with a little knowledge and effort you can enjoy a healthy diet with more variety and for less cost than at a typical health food store.
Where can I find the maple syrup (or whatever other item you're looking for)?
Good news is that Trader Joe's stores are much smaller than typical super markets so you won't wander through endless aisles. However, like any new place, it helps to know the lay of the land.
The general pattern for most stores is that the produce section is on one side of the store and usually the section you enter into. Most dairy products are in cases at the back of the store, except for the cheese which is often in a separate section. Alcoholic beverages are usually on opposite side of the store from produce and often the section you exit through.
There are generally two or three aisles of shelf-stable groceries (cans, bottles, boxes) and non-food items (paper towels, toiletries, pet supplies) in the middle of the store along with one aisle of frozen foods. Candy, cookies and other assorted non perishable items are on shelves over the frozen food cases.
If you're having trouble finding a non-perishable item, look on the end caps (the displays at the ends of each aisle) or on the shelves above the frozen foods. Alternatively, just stand there looking perplexed and a friendly Crew Member will usually ask how they can help.
Be prepared for things to move around now and then. Sometimes this is due to the arrival of seasonal merchandise and other times it seems to be due to a new marketing strategy. For example, soda recently moved from the beverage aisle to the chips aisle and my favorite veggie breakfast sausage moved from the frozen breakfast section to the meat substitute section.
All fine, except for that moment of panic when I worry that one of my favorite items has been discontinued, which leads me to…
What happened to my favorite item?
One downside to being a regular Trader Joe's shopper is that at some point one of the items you love and buy week-after-week will be gone forever. I still have dreams about an especially yummy carmelita-like dessert bar I bought on my first visit to Trader Joe's and never found again.
Part of Trader Joe's strategy to keep things interesting is to introduce 10-15 new products every week. In order to make room for new items some current items have to go. In theory, these are the least popular items, but that's little consolation when one of your favorite items gets the boot.
How does Trader Joe's keep their prices low?
Trader Joe's sells quality products and pays their employees a decent wage, yet their prices for many items are lower than what you'd pay for a similar product at other stores. Trader Joe's stores are relatively small to reduce overhead and carefully located to maximize sales. Approximately, 80% of Trader Joe's items are private label products (store brand) which allows TJ's to control and reduce costs.
Many Trader Joe's products are designed to be appealing without using expensive ingredients. For example, the meal-in-a-bag frozen entrees are comprised mostly of an inexpensive starch base (rice, pasta, polenta) with sauce and vegetables. None of the ingredients are high-end, but the end result is impressive. One of my personal favorites is the asparagus risotto, which looks and tastes like a gourmet meal at a fraction of the cost.
Does Trader Joe's have sales?
According to the TJ's web site, the answer is no. However, you will definitely find seasonal bargains, such as berries at great prices during peak season or holiday treats after the holiday. A couple years ago a Christmas cookie kit (basically a sugar cookie mix with icing and sprinkles) was discounted from $3.99 to 99 cents after Christmas and made lovely cookies for Valentine's and St. Patrick's Days.
Does Trader Joe's accept coupons?
Since most of Trader Joe's stock is store brand and they don't offer coupons for these, the coupon options are limited. You'll need to redeem those pizza and detergent coupons somewhere else. However, Trader Joe's does accept manufacturer coupons for the name brand products (Morningstar, Kashi, Fage, etc.) they carry and sometimes you'll even find a peel away coupon right on a product.
Do they carry my favorite brands?
The majority of foods offered at Trader Joe's are private label, meaning it's technically a Trader Joe's product. However, you may experience a strong sense of deja vu since many of TJ's products are the same you've purchased elsewhere under a different label.
Amy's (soups and frozen entrees) and Annie's (boxed mac & cheese and salad dressing) are the most easily identifiable exact duplicates, but you'll find cereals, chips, cookies, condiments and many other items that are similar, if not identical, to familiar store brands.
Trader Joe's does carry some labeled name brands. I am pleasantly surprised and grateful that they carry my favorite Morningstar sausage and Reed's ginger ale, but I wonder how long this will continue.
How do I know if I'll like a product?
Trader Joe's has a sample station in the back of each store that's usually set up with 2-3 products, often a juice, snack item (chip or cookie) and a hot entree item. Stop by and try something new each time you visit.
In addition, you can ask to sample items in the store. If you're intrigued by the chili dried mango slices, but don't want to commit to spending $3 in case it's awful (it's not, but it does takes some getting used to) ask an employee if you can sample it. They'll be glad to oblige, especially since I suspect the leftovers go in the employee break room.
Trader Joe's also has a generous return policy. If you get something home and don't like it, go to the customer service desk on your next visit for a refund.
Why are the employees so friendly?
You'll occasionally find an exception, but most Trader Joe's employees (Crew Members) are capable, helpful and friendly. Employees are paid a decent wage, rotate through various positions during their shifts to avoid boredom, get to sample products, and wear jeans and Hawaiian shirts to work.
Is there a Trader Joe?
Yes, but he's no longer running the show. The short version is that Joe Coulombe opened the first Trader Joe's in 1967 in Pasadena, CA. Joe was a Stanford MBA graduate who positioned Trader Joe's as the grocery store for "overeducated and underpaid people".
Joe sold the chain to Aldi grocery store founder Theo Albrecht in 1979, but continued as CEO until retiring in 1988. Joe is now 83 and resides in San Diego, CA.
What's with the bells?
You'll not only hear bells ringing, but a employee shouting out the number of bells – "two bells!". One bell means the check out lines are getting long and another register needs to be opened. Two bells means a cashier needs some assistance, usually a price check or replacement item. Three bells means a manager is needed.
If the bells start to get on your nerves, just remember that the alternative is a static filled public address system that interrupts the music.
Why isn't there a Trader Joe's near me?
Trader Joe's started out in southern CA in 1967, expanded to northern California in the late 80s, throughout the western states in late 90s and along the east coast and into the Midwest in the 2000s.
A good friend of mine who moved from California to Texas several years ago is delighted that Trader Joe's' finally made it to Houston even though it's on the other side of town. My family in Florida has a Trader Joe's scheduled to open near them soon.
Trader Joe's can accurately be described as a nationwide chain, but some regions are definitely better represented than others and not every neighborhood is going to end up with a Trader Joe's. TJ's carefully selects store locations to ensure a strong customer base.
If you have a Whole Foods, Sprouts or other relatively healthy, upscale grocery in your neighborhood, you may end up with a Trader Joe's in the future. Here are current and planned Trader Joe's locations.